Home | About the Book | Buy the Book | Clay Music Resources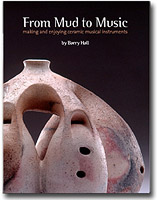 From Mud to Music is a large 259-page hardcover book with over 500 color photographs and a 74-minute audio compact disc representing the work of over 100 ceramic artists from around the world.
The book (with CD) is available for purchase direct from the author for $59.95 plus shipping. Signed copies are available at no additional charge.
Click here to order FROM MUD TO MUSIC
Publisher: The American Ceramic Society
ISBN: 1-57498-139-0
For inquiries about From Mud to Music, please contact Barry Hall.