Home | About the Book | Buy the Book | Clay Music Resources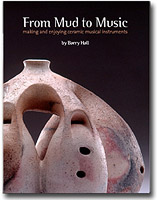 "The most exciting pottery book to come along in years." - Sumi von Dassow, Pottery Making Illustrated Magazine
This book is about a truly remarkable transformation: how the simplest of materials - clay or mud - can be used to make tools for producing one of the most complex human expressions - music. With a history reaching back to ancient times, creating ceramic musical instruments is a vibrant pursuit for many innovative artists today. This book explores the vast array of ceramic musical instruments, from their historical traditions in world cultures to their modern variations and innovations. All instrument families are represented: drums, winds, strings, and even unique hybrids. For each type of instrument, special construction techniques specific to clay are explained. In addition, there's a chapter providing detailed, step-by-step instructions showing how to build several ceramic instruments. Hundreds of color photos present the work of artists from around the world spanning the last three millennia, from ancient Peruvian water whistles and Mesopotamian rattles to contemporary seven-chambered ocarinas and ceramic bagpipes. In-depth profiles explore a number of today's artists, their work, and their inspirations.The companion audio CD contains 43 diverse tracks of ceramic instrumental music ranging from the refined melodic strains of Vivaldi and Tchaikovsky to the earthy, primal wailings of bizarre pre-Columbian wind instruments. Whether you are a musician, ceramist, or simply a fan of art and music, you are invited to embark on an incredible journey . . . from mud to music!
From Mud to Music is a large 259-page hardcover book with over 500 color photographs and a 74-minute audio compact disc representing the work of over 100 ceramic artists from around the world. Click here to view sample pages.
The book (with CD) is available for purchase direct from the author for $59.95 plus shipping. Signed copies are available at no additional charge.
Click here to order FROM MUD TO MUSIC
Publisher: The American Ceramic Society
ISBN: 1-57498-139-0
Click on an instrument below to hear how it sounds: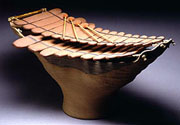 About the author
Barry Hall designs, builds and plays all sorts of musical instruments. He is the founder and leader of the Burnt Earth Ensemble, a band that performs and records music exclusively with ceramic instruments he has created. Barry has released a number of recordings and videos, most recently an instructional video titled "UDU: Clay Pot Drums and How to Play Them," and a CD of music by the Burnt Earth Ensemble titled "Terra Cotta." His instruments have been featured in many books, journals, textbooks, and recordings, including: Gravikords, Whirlies, and Pyrophones; Making Musical Instruments by Hand; Experimental Musical Instruments; Pottery Making Illustrated; The Extruder Book; The Eternal Presence; and Didjeridu Planet. Barry has toured extensively as a performer and speaker, and his music has been featured on National Public Radio and BBC Television.

For inquiries about From Mud to Music, please contact Barry Hall.
Read the reviews (from Amazon.com):

A classic must-have for art lovers, musicians and ceramists, June 11, 2006
Reviewer: Hester Heuff (Ireland)
This book is both beautifull and full of practical and interesting information about clay-instrument-making and about music, both contemporary and ancient. The CD alone is well worth the price of the book and a delight to the ear, the book is of interest not only to makers but also to any music enthusiast. It is very well laid out and there are cross-references for each music track to the clay instruments making the sounds. It is educational to both teachers and students alike, in the specific and general sense. It will be a classic in years to come and is a must-have for anyone interested in ceramics or music. It is also full of beautiful objects and would satisfy anyone interested in art for its own sake!

Simply awe inspiring book, June 10, 2006
Reviewer: Jason Gaddy (Rochester, Washington)
I want to add my praises for the book that is the defining tool for the ceramics and musical community. For anyone interested in musical instruments or ceramics or art of any kind, this book is a "must have". It is so beautiful that I have a feeling reverence when I hold it. No muddy fingerprints in this text! It will not be found with my beat up reference books out in my studio. It will take its place as the most prized on the shelves among my most favored books. Thank you Barry! Thank you for bringing us together and helping us to share our love of this fine craft. You
have brightened the world!

From mud to music, June 21, 2006
Reviewer: Paul Hayden Dunn (Capalbio, Tuscany, Italy)
This book is to own. It's at home in the studio, on the coffee table or in the historian's library. It's well written, informative (with some how make ceramic instrument techniques), exhaustively researched with magnificient photographs of clay instruments, both ancient and new, of every type. I would never loan my copy for fear of not seeing it again.

Percussionist, musician, or music-lover - this is a "Must Have" work, June 11, 2006
Reviewer: C. Spano "Florida Folk Music" (Ormond Beach, FL)
As someone with a penchant for percussion instruments, especially those of the "unusual" type, I had been enthralled by the haunting sounds of the Udu for some time but material on actual playing techniques is virtually non-existent - the name Barry Hall kept coming up in my quest for some actual/viewable techniques - I had found a number of Udu makers and had acquired various instruments but was still looking for more info - I finally went to Barry Hall's website, obtained the instructional DVD, and found that Barry was involved with a lot more than just Udu's - through Barry's website, CD's, and video, I was unexpectedly introduced to a whole new world of ceramic instruments, many of which were unknown (and thus intriguing as to their musical capabilities) to me - a whole new world of incredible sounds and possibilities!

And then comes "The Book" - "Mud to Music" - what an apt title. From the get-go, this large volume stands out as to its quality and the incredible amount of work, time, and love of music and ceramics that had to have gone into this work. No cheap glossy paper dust-cover for this volume - this hard cover book is first class all the way, from the full color front all the way through to the back cover - LOTS of great color photographs, great indexing, and historical/contemporary info with the articles on the various instrument artisans and the "how-to" sections just superb - this book has it all and opens up a whole new arena of possibilities for those musically inclined. This book was obviously a labor of love by a master artisan who settled for nothing short of the best. The accompanying CD is icing on the cake so to speak!