No Boundary - the Eternal Present
. . . deep tones at twilight . . .
Octave Alliance and Didjemana invite you to join us at twilight on Hawk Hill overlooking the Pacific Ocean to experience a sound journey of didjeridus harmonizing in an outdoor echo chamber of unparalleled depth & radical natural reverb. In this unique one-time concert you will physically experience deep swirling drones, tones, & exotic rhythms amidst the arrival of nightfall with other explorers in a 50 yard stone walking tunnel in the Marin Headlands just north of San Francisco. With your presence, a uniquely memorable night.
Friday August 2nd, 2002 • 9:00-10:30pm
(arrive at 8:30 for enough time park and walk up to the tunnel)
Performers:
jusse nayeli, south africa • barry hall, usa
rafael delfin, mexico • alan tower, usa
The tunnel is part of an abandoned historic seacoast fortification on Hawk Hill, a sighting point for more than 20,000 hawks that fly over the headlands each year. In the same location a week later, this performance will be recorded for an upcoming CD titled:
"The Eternal Presence". Click here to listen to the CD or purchase a copy.
Read more about the concept and inspiration for No Boundary
This performance is a non-profit fundraiser for . . . . Octave Alliance - inspiring social change through music and supports 2002-2003 educational events, performances, recordings & "team development thru rhythm" workshops for bay area non-profit organizations.
A contribution (tax deductible) will be requested before or after the show. Please contribute an amount appropriate to your ability, bearing in mind that space is limited at this event. Checks should be payable to Octave Alliance/Alan Tower.
Directions:
From 101 going north over the Golden Gate bridge, take the Alexander Ave exit, stay in left lane and you will come quickly to a stop sign. Left under the highway and now stay in the right lane and up the long hill to the headlands. 2/3rd of the way up will be a gate barring further access. Park on the side of the road in pull-outs & niches. Walk up several hundred yards to the top of the hill overlooking the bay & the bridge - concert is in the first tunnel on the right. Arrive by 8:30 for the walk up the hill. From 101 going south take the last exit before the bridge and up the headlands hill to concert signs.
BRING: A pad to sit on or a beach chair & a warm coat, cap and gloves (in case of cool weather), & flashlight. If you are able, bring a candle with a deep well or an enclosed top for your area illumination. The National Park Service requests no glass containers.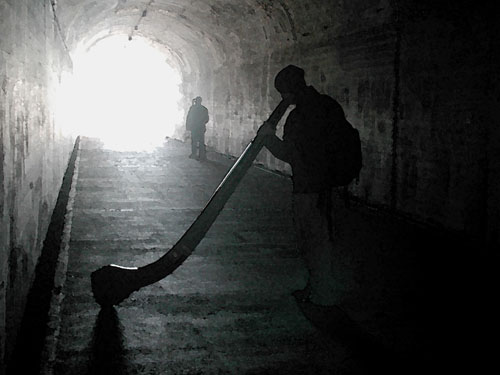 Program Contributors
Didjemana
didjeridus of unique intensity & beauty
Octave Alliance
inspiring social change through music
Burnt Earth
ceramic musical instruments
Infinite Studios
cutting edge audio, hybrid world music
alan tower & Free Energy
evolutionary acoustic music caught between modern primal & world rennaissance