A Feast of Songs
Holiday Music from the Middle Ages

Featured on NPR's "All Things Considered" - Listen Here

A CD recording with a lively collection of familiar and unusual traditional songs and dances from the middle ages that celebrate the winter season and its associated festivals and holidays. Songs from the British Isles, Ireland, Germany, France, Poland and Sweden blend medieval and renaissance tonalities with a festive folk energy that awakens the spirits of past ages. Beth and Barry's robust voices combine with a wide array of rustic and refined musical instruments reaching back to medieval times.

Listen to samples | Buy this CD |
Read reviews | Lyrics and translations
Contact Barry and Beth
---
The Musicians:
Barry and Beth Hall: voice, vielle, lute, dulcimer, viola, violin, mandolin, guitar, sitgar, flute, recorders, French horn, herald trumpet, doumbek, tar, bodhrán, tabor, tambourine, cymbals, bells, African drums, and other percussion instruments.

"Barry and Beth Hall are folk musicians who play medieval music with exuberance."
- Tom Manoff, Classical Music Critic for National Public Radio's "All Things Considered"

More about Barry and Beth from media: Music from Christmases Past and Westborough Musicians are 'Olde' School

---
This CD was rated 4.5 stars (out of 5) in the Holiday 2007 issue of Renaissance Magazine and was featured as a top pick on NPR's "All Things Considered" in December 2010
Customer Reviews (from Amazon.com and CD Baby):

THE BEST MEDIEVAL CHRISTMAS CD - EVER!
Reviewer: Strega2 from Amazon.com
What a find this remarkable CD is! If you love authentic Medieval music, played with the authentic instruments of its time and sung in the same way that a nobleman's court of the 14th or 15th Century might have heard it--this is the one for you. Beth and Barry Hall, both very gifted musicians, offer the finest collection of European Medieval carols I have yet found, and I have a large collection of the music of this period. A Bravissima performance to be savored all year round. Good Lords and Ladies all, grab this one!

VERY NICE!
Reviewer: Damien F. Gray from Austin, TX
I have been listening to this album for two Christmas seasons and never seem to tire of it. The instrumental pieces are very well done, beautifully providing delicate, intricate harmonies. The vocal numbers are equally well done. There is a nice selection of songs, some familiar to the modern listener, and some providing a good introduction to medieval music. This is Christmas music for all ages.

ONE OF THE BEST CHRISTMAS CDS ON THE PLANET
Reviewer: Karen De Coster from Clinton Township, MI
This is holiday music from the middle ages, by Barry and Beth Hall. They do performances of my favorite antique classics such as "Masters in the Hall", "Quem Pastores Laudavere" (a 14th-century Latin chant, performance reminiscent of a midnight monastic Gregorian chant, with deep-toned church bells and ritual drumming); "Mors Vitae Propitia" (high energy 12th-century French song from Piae Cantiones, sung in Latin and accompanied by vielle, lute, flute and percussion); "Personent Hodie" (medieval song from the Piae Cantiones, sung in Latin and accompanied by recorders, vielle, lute and percussion); and "Nous Voici Dans La Ville" (haunting traditional French melody, performed on fiddle, mandolin and recorder).
Their sound is phenomenal, and this CD belongs in every Christmas collection.

I ABSOLUTELY LOVE THIS CD!
Reviewer: Sueg from CDBaby.com
I love this music, and even though I feel silly listening to Christmas Music in the SPRING time I haven't stopped playing it since I got it... over and over again. I especially enjoy the second song. It is so upbeat and lively!

LOVELIEST CHRISTMAS MUSIC EVER
Reviewer: city7 from Amazon.com
This is on my playlist all year. I've never heard anything else that so beautifully captures the flavor of Christmas, in a way that brings to mind all of the richness, warmth, simplicity and sanctity of the medieval celebration. The flavor is not secular. This is just like drinking a steaming hot spiced wine in a cabin with a fireplace and a stone church visible from the window, full of meaning and warmth. The singing and instrumentation are really something else.

IF YOU BUY ONLY ONE CHRISTMAS SELECTION OF MUSIC, CONSIDER STRONGLY THIS ONE
Reviewer: Justin M. West from Amazon.com
A Feast of Songs is a gorgeous journey through a millennia of different cultural takes on the Christmas theme. The first and last tracks are oddly strong and powerful - though they did take a few listenings to appreciate. But the renditions of Patapan and others are stunning, and flow beautifully from one into the next. Gorgeous music. Buy it. Listen to it every day. Live the season and do so boldly!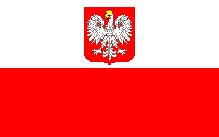 Reviewer: Rafał Chojnacki (Taclem) at folkowa.art.pl
Dzięki tej sympatycznej płycie poznamy pieśni, jakie towarzyszyły tradycyjnym świętom w tradycji folkowej sięgającej średniowiecza i renesansu. Boże Narodzenie pojawia się tu w pieśniach angielskich i łacińskich. Album rozpoczyna dość popularna "Gaudete", którą folkowy świat poznał dzięki interpretacji Steeleye Span. Później mamy przegląd muzyczny, który pokazuje różnorodność gatunkową tematyki bożonarodzeniowej. Instrumentalny "Patapan", czy wesoło zagrany "Mors Vitae Propitia" występują tu obok bardziej dostojnych utworów, takich, jak "Il est Né le Divin Enfant" czy "Green Growth the Holly". Album nie traci przez to jednak spójności. Czasem jest sakralnie ("Quem Pastores"), a czesem lekko i dworsko ("Christchurch Bells"). Jednak dla mnie najciekawszym utworem na płycie okazała się kompozycja "Journey of the Magi", kojarząca się nieco z dokonaniami Dead Can Dance.
---
The Songs:
Gaudete (Sweden, 16th century) listen to a sample
Patapan (France, traditional) listen to a sample
Il est ne le divin enfant (France, traditional)
Christmas eve (England, traditional) listen to a sample
Green growth the holly (King Henry VIII, c. 1520)
Mors vitae propitia (France c. 1200)
Quem pastores (Germany, 14th century)
The truth from above (England, traditional)
Christchurch bells (England, 14th century)
Jesuza Judasz przedal (Poland, 14th century)
Good King Wenceslas (England, 14th century)
Journey of the magi (improvisation) listen to a sample
In dulci jubilo (Germany, 14th century) listen to a sample
Personent hodie (Germany 1360, lyrics Sweden 1582)
Nous voici dans la ville (France, 15th century)
Noel nouvelet (France, traditional)
Coventry carol (England, 16th century)
The holly and the ivy (England, traditional)
Hail, Mary, full of grace (England, 15th century)
Sir Christemas (England, 15th century)
Masters in this hall (France, traditional)
---
TO BUY THIS RECORDING:

Price: $12.99 (CD) Includes FREE SHIPPING in the USA.
Or mail your payment to the following address (please make check payable to "Barry Hall"):
A Feast of Songs
PO Box 452
Grafton, MA 01519 USA
You can also purchase this CD from Amazon.com, CD Baby, and purchase individual tracks (or the entire recording) from the iTunes Music Store here:
Click here to see other CDs and videos available from Burnt Earth - all with FREE SHIPPING.
---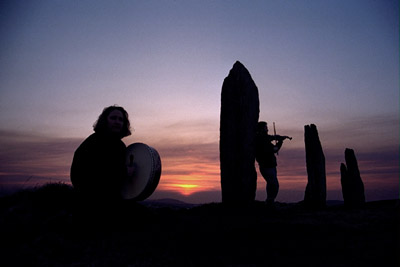 Barry and Beth at the Ring of Brodgar, an ancient stone circle
on the Orkney Isles at the northernmost tip of Scotland

Copyright ©1995-2016 Barry Hall, Hallistic Music. All rights reserved. Unauthorized duplication of page content, source, images, sound or video files is a violation of applicable laws. Woodcut on cover by Mary Azarian. Used by permission.