TERRA COTTA
Track 11: Oliphant (Richard Smith & Barry Hall) 5:06
Richard: drums and other percussion instruments; Barry: clay oliphant, clay trumpet, ocarina, didjeridu, flowerpotophone, percussion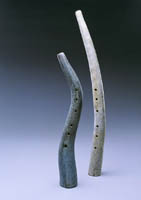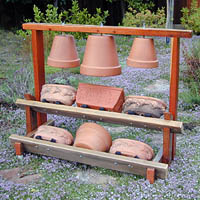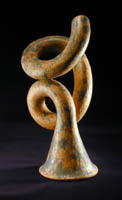 clay horns, flowerpotophone, clay didjeridu
Listen to an excerpt of "Oliphant"
An oliphant is an ancient type of horn made from an elephant's tusk and used for signaling and in battle. A status symbol, oliphants were usually elaborately carved and sometimes adorned with gold and precious jewels. The oliphant of the knight Roland features prominently in the medieval French epic poem, Song of Roland:
"Roland has set Oliphant to his lips,
Firmly he holds it and blows it with a will.
High are the mountains, the blast is long and shrill,
Thirty great leagues the sound went echoing."
The clay oliphant featured in this song seems almost human with its throaty, mournful sound. Other clay horns and ocarinas interplay with the Oliphant, over a landscape of ceramic percussion and didjeridu.
from the CD "TERRA COTTA" by The Burnt Earth Ensemble ©2005 all rights reserved