Hear the exotic sounds of ceramic musical instruments in
CLAY MUSIC CONCERTS
with the Burnt Earth Ensemble and special guests
presented as part of Baltimore's "Tour de Clay" - March 18-20, 2005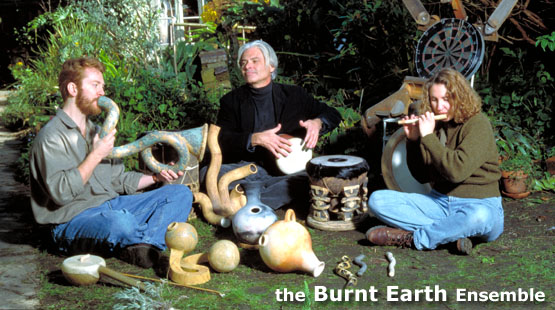 The Burnt Earth Ensemble is a musical performing group formed to explore the myriad of sounds produced by ceramic musical instruments. Armed with haunting flutes, growling didjeridus, raucous fiddles and thundering drums, the Burnt Earth Ensemble coaxes tantalizing music from the material of the Earth herself. Every instrument in the ensemble is made from clay, and most were created by the group's founder, Barry Hall. The Burnt Earth Ensemble's music is uniquely original, with Celtic, African, Middle-Eastern and jazz influences. The band members contribute their varied musical backgrounds—from classical and jazz to rock and world music—to create an improvised stew that uniquely expresses the delicate beauty and raw earthy power of ceramic musical instruments.
CONCERT DATES AND VENUES:
Friday March 18
BALTIMORE VISITORS CENTER
Noon – 1:00 pm / Free / Public concert on the Inner Pier boardwalk
401 Light Street, Baltimore (phone 1-877-BALTIMORE) | info | map

MARYLAND ART PLACE at "Power Plant Live!"
5:00 – 9:00 pm (artist talk from 7-8) / Free / Gallery reception featuring ceramic art by Carolyn Bernstein, Kwebena Ampofo-Anti, and others
8 Market Place, Suite 100, Baltimore (phone 410-962-8565) | info | map
Saturday March 19
STANCILL'S CLAY MINE
Noon – 1:30 pm / Free / Gallery reception "Coming Home: A Journey in Clay" - Free
499 Mountain Hill Road, Perryville, MD (phone 410-939-2224) | info | map

CARROLL ARTS CENTER
4:00 – 5:30 pm / $8 / On-stage performance in conjunction with gallery reception "Free Form"
91 West Main Street, Westminster MD (phone 410-848-7272)| info | map
Sunday March 20
MARYLAND INSTITUTE COLLEGE OF ART
3:00 – 5:00 pm / Free / Gallery reception "Lawson Oyekan and the Spirit of Nature"
Mount Royal Station, Decker Gallery, 1400 Cathedral Street (Across Mount
Royal Avenue from the Lyric Theatre) Baltimore (phone. 410-225-2300) | info | map
SPECIAL GUEST PERFORMERS INCLUDE:
These concerts are presented in conjunction with the National Council on Education for the Ceramic Arts (NCECA) conference and celebrating the release of the new book "From Mud to Music: Making and Enjoying Ceramic Musical Instruments" by Barry Hall, and the new CD "Terra Cotta" by the Burnt Earth Ensemble.